About Prien
Prien is a bookbinder interested in the wide range of possibilities of bookbinding.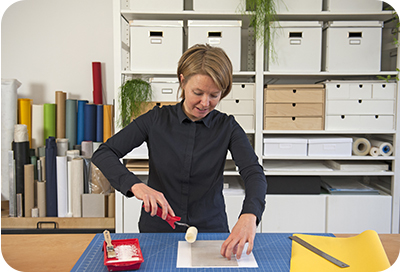 Craftsmanship and the enormous amount of techniques makes bookbinding such an interesting job.
Prien does not believe in mass production. What matters is an exclusive and original design,
made to last and to enjoy every time you see or touch the book, album or box. Something like the old
family photo album, in the family for decades and still beautiful, and therefore very special.
Prien doesn't only offer booklets in the webshop, but is also specialized in customized bindings, such as
wedding booklets, photo albums, boxes, portfolios, business presentations and personalized gifts.
Please contact Prien to find out about the possibilities. Together we will find a good way to bind your special project.
The possibilities are unlimited …
If you decide to buy something at Prien's webshop, or if you order a customized project, please remember
that you buy something unique, handmade with care for the design and environment.
Greetz!
Corina
Prien is founded by Corina de Vette and situated at:
Prien | boekbinder
Zuidelijke Achterweg 11
3245 BR Sommelsdijk
info@prien.nl
Like to visit me? Please contact me (info@prien.nl), so we can make an appointment.